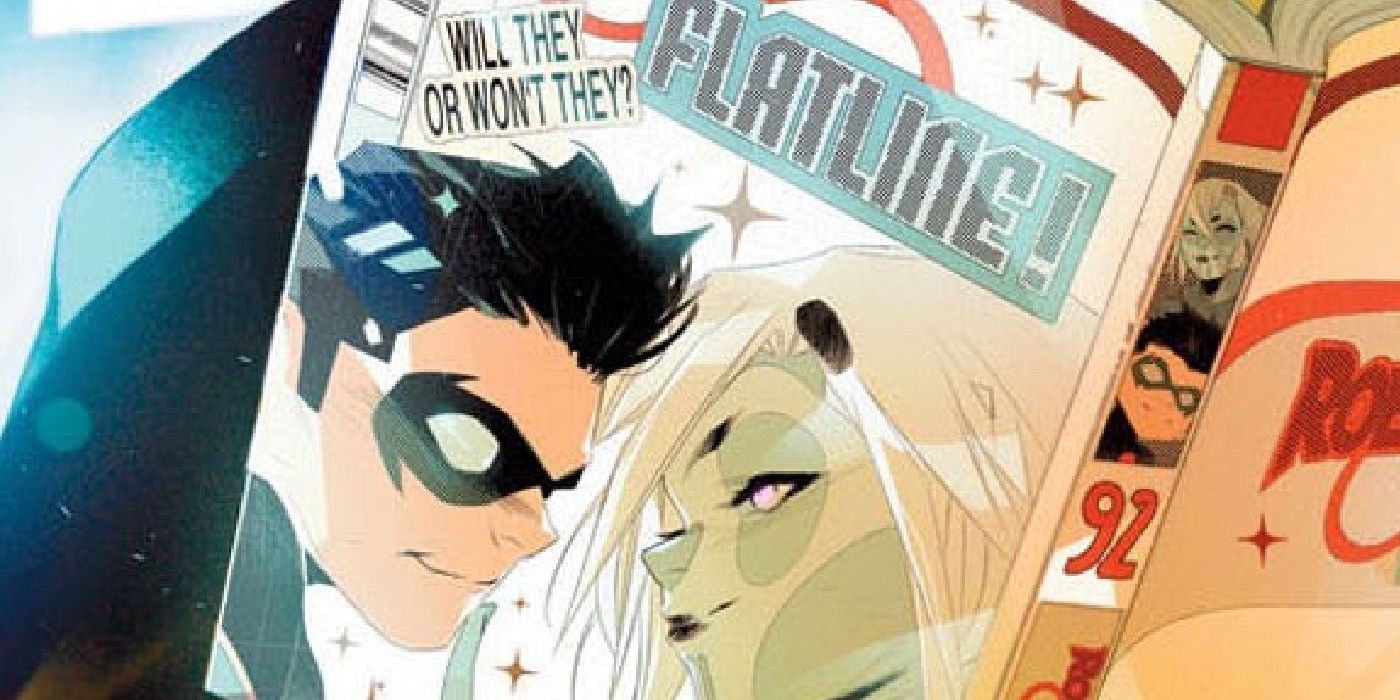 It's no longer a secret that DC's Robin is a manga fan. In a new cover for Robin #7, he's seen deeply engrossed in a shōjo manga. This isn't just any manga either, it's one that stars himself and his latest rival, Flatline.
Flatline first appeared briefly in Detective Comics #1034, just before the start of the current Robin series, where she officially debuted. This cameo appearance showed her battling future Tournament of Lazarus fighters. She was Robin's first opponent and decimated him easily - not surprising since he jumped headfirst into the fight without knowing the rules. Flatline's the sidekick to Lord Death Man and is proficient in martial arts, making her a worthy foe for Damian Wayne.
On Twitter, Joshua Williamson, who is writing the current Robin series, shared the cover for the seventh issue. Robin #7 will release in October 2021 and continue Robin's adventure with the League of Lazarus. In an interesting twist, this is not an action-packed cover. It shows Damian reading "Robin Flatline", which appears to be a hit manga series considering he's on volume 92! Not only does this expand on Damian's inner soft side, but it also teases that this new DC pairing may not be disappearing anytime soon.
This cover was illustrated by Simone De Mio, a comic artist whose recent DC credits include Batman: Black and White, Future State: Gotham, Green Arrow 80th Anniversary Spectacular #1, Future State: Harley Quinn, and Challenge of the Super Sons. Damian was revealed to be a fan of shōjo manga in the very first issue of his new series, Robin #1. He was depicted kicking back and reading a manga that involved two painters that reflected his struggles with his parents and his identity. Now, this cover is seemingly doing the same, but by depicting an internal struggle Damian may have in the romance department. The caption on the manga reads "Will they or won't they?" reflecting a trope that is very common in shōjo manga - will the lead couple get together or will they be kept apart forever?
While it is rather clear that there is a rivalry brewing between the two, it seems very likely that other feelings could definitely grow considering their early interactions. The two have already fought and Flatline bested Robin, literally stealing his heart by ripping it out of his chest. The way to Robin's heart could very well be through intense combat, though it also seems likely that Flatline could try to get close to him just to betray him. After all, she's a villain's sidekick - not a hero's. This aspect is further pushed by the pair of plushes in the background of Robin and Flatline, sitting atop previous volumes of the manga series.
Although Damian's softer side is starting to be revealed, he is still in a very dangerous position and he's still a very dangerous combatant himself. He knows how to hide his emotions and keep them in control. Damian's training has made him who he is, but that doesn't mean he isn't susceptible to the pangs of young love and the struggles of youth itself. Flatline and Robin are entering into a very dangerous dance, but will Damian have his own villainous interest like his dad, or will his heart be ripped out repeatedly?