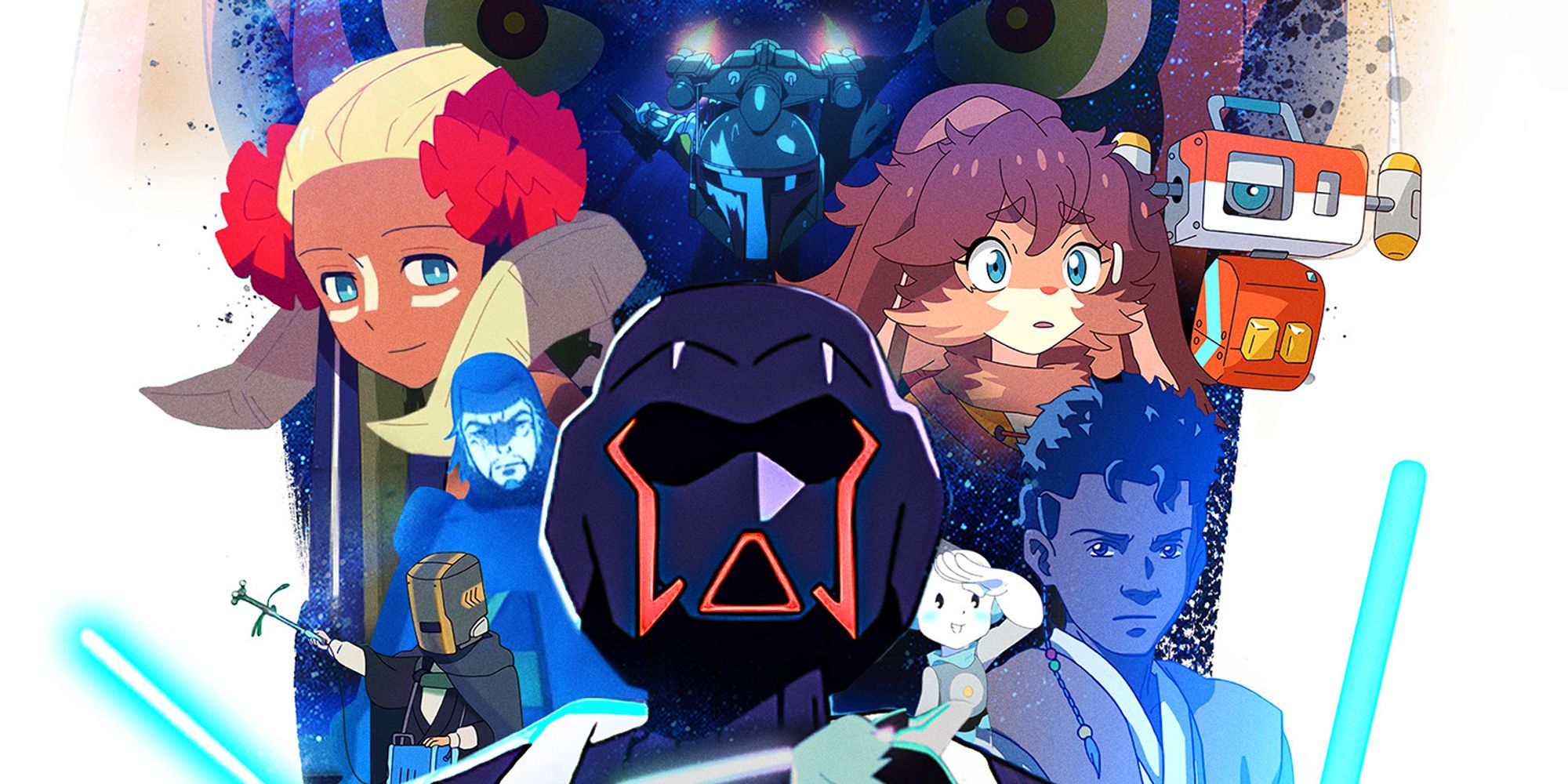 Lucasfilm has released a new poster for their upcoming Disney+ series, Star Wars: Visions, that highlights the show's diverse art styles. Visions is one of Lucasfilm's most experimental ventures since Disney's acquisition of the property in 2012. While Star Wars is no stranger to animation as a storytelling medium, this series is unique in that it is a collaborative effort between the studio and several different anime studios based directly out of Japan, a poetic decision considering Japanese culture's influence on George Lucas' original vision for Star Wars. Furthermore, rather than following a linear narrative taking place within a set era, Star Wars: Visions will be an anthology series that will touch on various eras throughout the franchise's expansive timeline.
Last month's Star Wars: Visions trailer gave audiences a taste of the high-octane, kinetic animation styles featured in each episode. While a handful of familiar faces (namely in the form of a chibi-style Boba Fett) do appear, most of the new footage highlights entirely new characters rendered in art styles that are quite literally foreign territory for the franchise. Among the seven Japanese animation studios contributing their talents for the series are Studio Trigger (Kill La Kill, Little Witch Academia) and Production I.G (Ghost in the Shell). Lucasfilm evidently provided little, if any, overarching aesthetic guidelines for the series, giving each studio a chance to showcase their distinct creative sensibilities. As the show's marketing campaign continues, Visions' diverse art styles clearly remain a selling point for the show.
Related: Star Wars: Every Kurosawa Reference & Homage In Movies & Shows Explained
The official Star Wars Twitter account recently released a new poster for Star Wars: Visions that also foregrounds the unique art styles of the show. Although the poster features Boba Fett and an X-wing, the recognizable imagery is relatively small in comparison to the show's original characters. Check out the full poster below:
Star Wars: Visions may be steeped within the lore of the Star Wars universe, but the show's marketing campaign guarantees that the series will not rely on familiar iconography as a crutch. The fact that the show's creators are so confident in their original creations bodes well for the project as a whole. Lucasfilm's decision to keep Visions outside of the constricting confines of Star Wars canon was clearly the long-overdue shot-in-the-arm that the franchise has needed for some time.
As Star Wars continues to grow, experimental ventures like Visions are necessary to keep the universe feeling fresh. One of the franchise's oldest pitfalls has been its over-reliance on nostalgia and callbacks to older Star Wars films. If Star Wars: Visions is successful, hopefully Disney and Lucasfilm will take notes for future entries into the galaxy far, far away.
More: Star Wars' New Show Is The Culmination Of George Lucas' Vision
Star Wars: Visions will premiere on Disney+ on September 22.
Source: Star Wars/Twitter
Star Wars: Visions Poster Highlights Show's Diverse Art Styles
from https://ift.tt/3BVGoDA