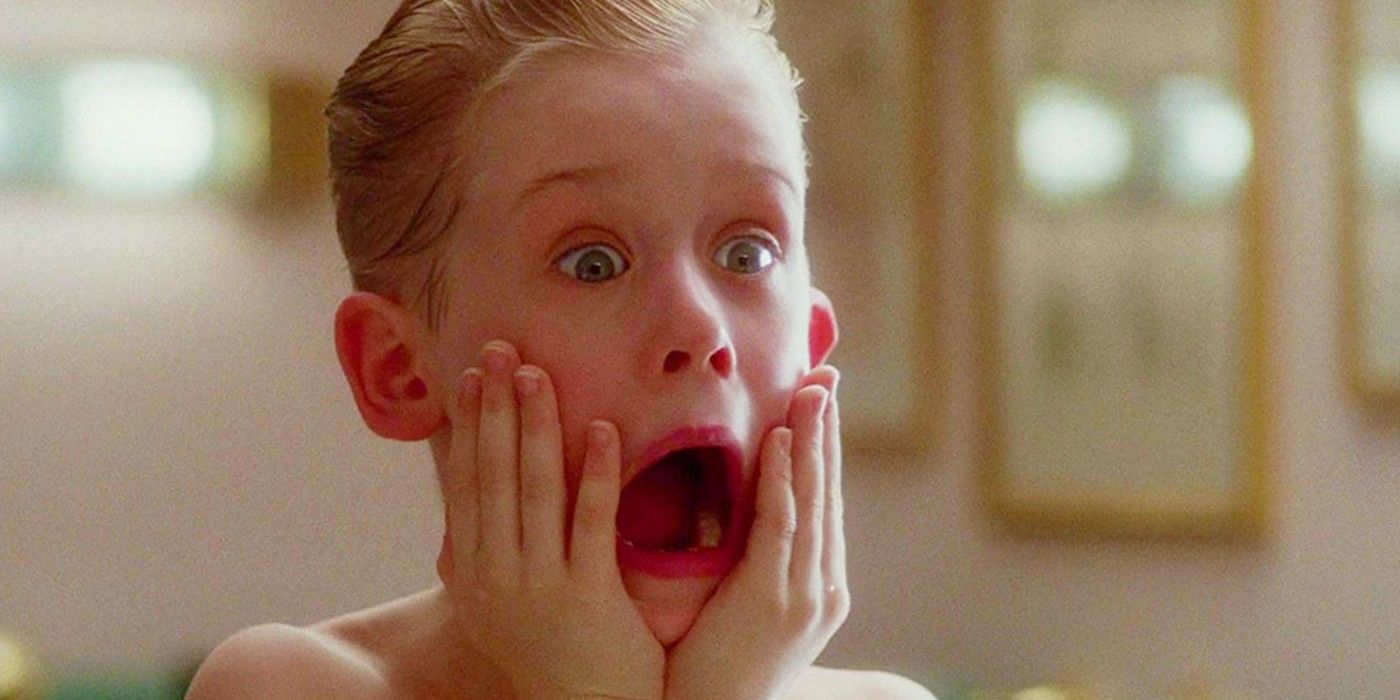 A new video that juxtaposes the original Home Alone with Disney's upcoming Home Sweet Home Alone trailer shows how similar the two films are. After four sequels to the 1990 blockbuster Chris Columbus film, the Home Alone franchise seemed to have done everything it could with the concept of a lone child defending himself and his house from intruders. As a result, Disney appears to have gone back to basics with Home Sweet Home Alone.
After finding success with the first Home Alone, Columbus returned with another John Hughes script, 1992's Home Alone 2: Lost in New York. The sequel would be the final time that Columbus directed a Home Alone film, just as it would mark the last collaboration between Columbus, Hughes, and Macaulay Culkin. For fans, Home Alone 2 was plenty of fun, and despite its apparent similarities to the first film, some felt that overall, it was the superior of the two. However, once more films were made without Culkin or the loveable Wet Bandits – memorably portrayed by Joe Pesci and Daniel Stern – the franchise felt understandably different, prompting some to limit their acknowledgment of it to just the first and second films. Now, over 30 years since the first Home Alone arrived, Disney is mere weeks away from delivering what's meant to be a new take on the concept.
Related: Home Alone Reboot Trailer Shows Why It Can't Beat The Originals
With the first trailer for Home Sweet Home Alone recently released, fans have been able to get their first glimpse at what the new film offers. And while the trailer does a decent job of introducing the film's cast of characters and plot, a persistent criticism so far has been that Home Sweet Home Alone is basically just Home Alone. So strong is this opinion that Consequence has taken to their official YouTube channel to deliver a comparison video that places the original Home Alone next to the new trailer for Home Sweet Home Alone. The result makes for a solid defense of the argument that the two films are nearly identical:
Long before a trailer was released and fans were left to guess as to what sort of angle Disney would take on a new Home Alone entry, it's fair to say that few people suspected little more than a direct reboot. But so far, that appears to be what SNL alums Mikey Day and Streeter Seidell have delivered with their Home Sweet Home Alone script. Understandably, Disney aims to reach a new generation of potential fans with this latest film, which stars Jojo Rabbit lead Archie Yates in the role of Max (aka Kevin McCallister), alongside Ellie Kemper, Rob Delaney, Aisling Bea, Timothy Simmons, and Ally Maki. However, the similarities between the first film and Home Sweet Home Alone feel particularly pronounced once the two films are placed side by side.
After five Home Alone films, it's understandable that most of the story possibilities for a child being left behind by his parents have been covered. What's more, regardless of one's opinion of the sequels that arrived post Home Alone 2, all three films supplied some twist on the original concept. But with Home Sweet Home Alone, there's no indication that much more than the characters' names have been changed. Disney appears to have redelivered the seasonal classic, and the likelihood that it can capture or surpass what made that first film so magical feels highly improbable.
Next: Home Alone: Is Angels With Filthy Souls A Real Gangster Movie?
Source: Consequence
Home Alone Reboot Comparison Video Shows How Similar It Is To 1990 Original
from https://ift.tt/3iZRP61